Psalm 70:4 Let all who seek you rejoice and be glad in you. Let those who love your salvation say evermore, "God is great!"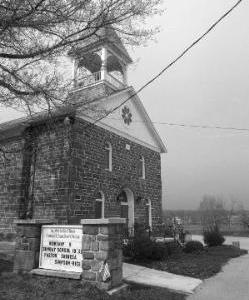 Give praise to the living God! We celebrate the Spirit that moves within us and around us as we rejoice in a summer of blessings: vacation bible school and the joy the children bring to learning about Moses, Jesus, Peter and serving others; our summer festival, which draws the community together with music and great food; and the culmination of our summer- a celebration of the church's 170 years in ministry. Truly, God is Good!

God is great indeed! We at St. Paul's "Red Run" United Church of Christ believe in a great God, a deity that loves us beyond measure. We welcome others with that same heart of love, that accepts others freely. We believe in Jesus Christ as our Savior, a man that championed the meek, the poor and the outcast and called them friends. We believe in and celebrate the Holy Spirit, love invisible that fills us and delights us as we seek to be disciples in faith.

We join together in worship on Sunday mornings at 9 AM, followed by coffee fellowship and adult Sunday School at 10:30 AM. We celebrate Holy Communion on the first Sunday of the month, which also happens to be food bank Sunday- we encourage you to bring a non perishable food item for donation to Dover Food Bank.

If you have felt adrift, in need of a spiritual home, longing for a family in faith, won't you join us for Sunday worship or one of our bible studies? We have been waiting for you, praying for you, and we can't wait to meet you!